Conference
February 2-5, 2023
Thank you for your interest in attending MUNUC. Registration will open on June 6, 2022 and remain open until October 7. Registration operates on a first-come, first-served basis. In the event that we reach capacity earlier than October 7, we will open a waitlist. Our administrative team will confirm your delegation's position assignments and number of allotted spots by mid-November.
To begin, click the Register button in the top-right of the page. Reach us at admin@munuc.org with any questions.
Jump to Fee Schedule
Key Dates, Forms, and Modules
2022
June 6: Registration Opens
September 12: Financial Aid Application Opens
October 7: Registration Closes & Waitlist Opens
October 28: School Registration Fees, Country Preferences, & Financial Aid Applications Due
November 4: Financial Aid Decisions Returned
December 1: Hotel Rooming List Due
December 6: Delegate Fees Due
December 16: Delegate Roster, All Waivers, & Training Modules Due
2023
January 19: Registration Freeze Day
January 27: Position Papers Due
February 2: Conference Begins
February 5: Conference Ends
CONFERENCE
MUNUC 35 Conference Schedule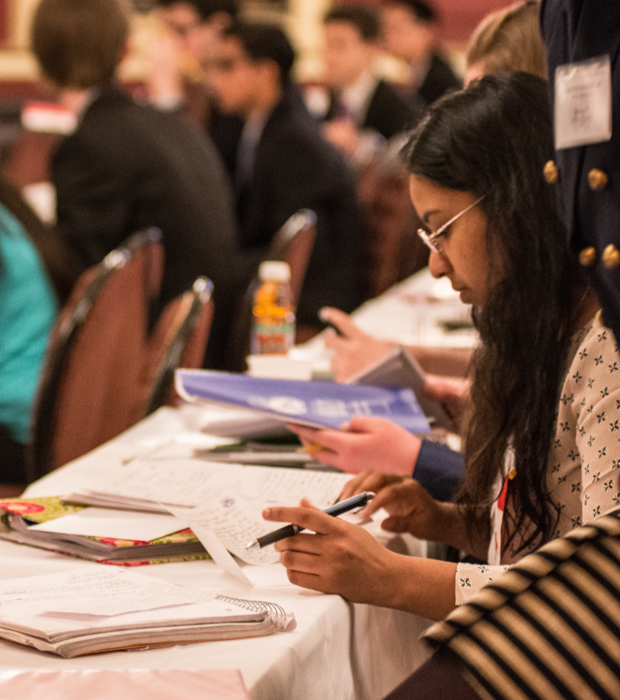 Close
Thursday, February 2
2:00 pm – 6:00 pm: Conference Check-In
4:00 pm – 5:00 pm: MUN 101
5:00 pm – 6:00 pm: Training Workshops I
6:30 pm – 7:30 pm: Opening Ceremonies
8:30 pm – 11:00 pm: Committee Session I
8:45 pm – 9:45 pm: Advisor Welcome Reception
11:30 pm: Curfew & Lights Out
Friday, February 3
10:00 am – 1:00 pm: MUNUC Expo
10:00 am – 11:00 am: University of Chicago Admissions Session
10:00 am – 11:00 am: MUN 102
11:00 am – 12:00 pm: Training Workshops II
12:00 pm – 1:15 pm: Lunch Break
1:30 pm – 5:30 pm: Committee Session II
2:15 pm – 3:15 pm: Advisor Meeting
5:30 pm – 7:00 pm: Dinner Break
7:15 pm – 10:30 pm: Committee Session III
11:30 pm: Curfew & Lights Out
12:00 am – 4:30 am: Midnight Crisis Session
Saturday, February 4
9:30 am – 12:30 pm: Committee Session IV
11:00 am – 12:00 pm: Advisor Meeting
12:30 pm – 1:45 pm: Lunch Break
2:00 pm – 6:00 pm: Committee Session V
6:00 pm – 8:15 pm: Dinner Break
8:30 pm – 11:00 pm: Delegate Social Events
11:30 pm: Curfew & Lights Out
Sunday, February 5
9:30 am – 11:00 am: Temporary Luggage Storage
10:00 am – 11:30 am: Committee Session VI
11:00 am: Hotel Checkout
12:00 pm – 12:45 pm: Closing Ceremonies
1:00 pm: MUNUC 35 Adjourns
Fees, Refunds & Financial Aid
School Registration Fee $135 / $145 Postmarked Oct. 28
Delegate Fee $75 / $85 Postmarked Dec. 6
School and delegate fees are refundable up to January 19. Please note that schools admitted from the wait list will be given a modified fee schedule.
Enrolled international schools will have to submit all school fees and 75% of delegate fees within 14 days of receiving their registration confirmation or they will lose their placement. This deposit is non-refundable.
Venue
All conference events will be held at the Hyatt Regency Chicago. The venue is truly in the center of downtown Chicago, built on the Chicago River, facing the Magnificent Mile, and neighboring Millennium Park. With its modern amenities, the Hyatt Regency offers a contemporary and functional space to facilitate the stimulating discussions of a Model UN conference, and we are excited to bring MUNUC to the Hyatt this year.
The hotel is in the heart of downtown Chicago, at 151 E Upper Wacker Dr, Chicago, IL 60601. It is conveniently situated near many dining options and attractions, and less than an hour from the city's major airports at O'Hare and Midway.
MUNUC has arranged for these special room rates at the Hyatt Regency, the conference hotel. We are requiring all delegations to stay at the Hyatt, unless by petition.
Please note "Room Type" refers to the number of individuals in each room. A Quadruple Room is 2 beds meant to sleep 4 people. The Hyatt is unable to place cots in rooms for extra sleeping space. As of now, room rates are still to be determined.
| ROOM TYPE | RATE PER NIGHT |
| --- | --- |
| Single | $159 |
| Double | $159 |
| Triple | $159 |
| Quadruple | $159 |
Financial Aid
MUNUC believes that cost should not be a barrier to educational opportunity, and is pleased to offer need-based financial aid to schools and individual delegates.
If the cost of attending MUNUC will be prohibitive for your delegation, we encourage you to fill out a financial aid estimate form, in order to get a better sense of how much assistance we would be able to provide. Your school does not need to register for MUNUC first to submit this form.
The expected costs of MUNUC include, but are not limited to, a school registration fee, individual delegate fees, travel arrangements, hotel expenses, and food for the weekend. We are able to offer financial aid in the form of school registration and/or individual delegate fee waivers, hotel vouchers, and travel reimbursements. Aid can be offered to entire delegations or to individual students. In the case of individual students, aid will be given to the school in the name of the student. Please note that fees and expenses must still be paid even after receiving a financial aid package. Financial aid will be given in the form of a reimbursement.
There are two separate portions of to our financial aid process: a school information form to completed by advisors and a delegate information form to be completed by students. Instructions can be found on both forms. Advisors should complete the school information form and distribute the delegate information forms to students applying for financial aid, who should then complete the form. For students applying for financial aid without their school, both parts of the delegate information form are required, but you will not need to submit a school information form.
In order to ensure that your financial aid decision gets back to you as soon as possible, please email completed documents to cfo@munuc.org. Applications are due October 28, 2022, and financial aid decisions will be returned to schools by November 4, 2022.
Payment & Refunds
All payments must be made by wire, credit card, or check; we do not accept cash payments. For credit card and wire payments, please inquire at cfo@munuc.org. Checks should be made out to  "Model United Nations of the University of Chicago."
Send payments to the following address:
Model United Nations of the University of Chicago
5706 South University Avenue, Suite 002B
Chicago, Illinois 60637
United States of America